Popular Nollywood actress cum singer, Angela Okorie has taken to social media to shade some unnamed celebrities.
In a lengthy Instagram post which she say is to set the record straight, Angela urged the unmentioned persons to put respect on her name.
She noted that she has been in the entertainment industry for years and has successfully carved a niche for herself and wouldn't let anyone touch what she has worked for.
In the lengthy Instagram post, shading her colleagues, the actress wrote,
"I want to set the record Straight, To all dem dumb Quack , cheap , low class tacky so called "Dem say you be Celebrity, with No pedigree. Put Respect on my Big name 😎Okay See B4 you start with your low self esteem. And inferiority complex opening fake accounts to chat shit ask your self where were you as of 15 to 17years ago.

I have been grinding for years and won't let any Mugu Touch what I have worked so hard to build, knowing some of Dem still Dey beg for role as of when I Dey run elections for people in power cos of my Crowd, Don't go there o Hmmmmm
Street credibility ✊ No be Chice. We Don't even know you 🤷‍♀️🤷‍♀️.

Legendary No be Social media if you know you know. Even your favs who benefited from this fame of mine from years back still beefing on low key won't tell dem selves D truth and stop deceiving and lying to them selves and to the people ,very any how things them 😡 just see small fame for social media Dem Dey jump up and down like frog wey dey inside water, if you Jonse abeg avoid me o cos I go disgrace you and your full family.

Dem No Dey Call me #legitqueen for nothing. Dem go wear real designers E go be like say Na garri sack Dem sow wear for body, as in no Levels hissss. Local things with Local and poor mind set. Meanwhile if Angela never post dem no go see copy 😂 No be the cloth Na who wear am, Free the matter and be at peace ✌️ Only One Legit Queen 👸".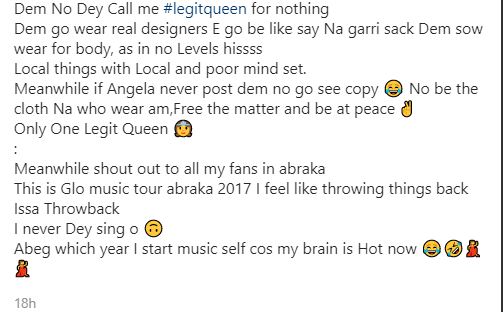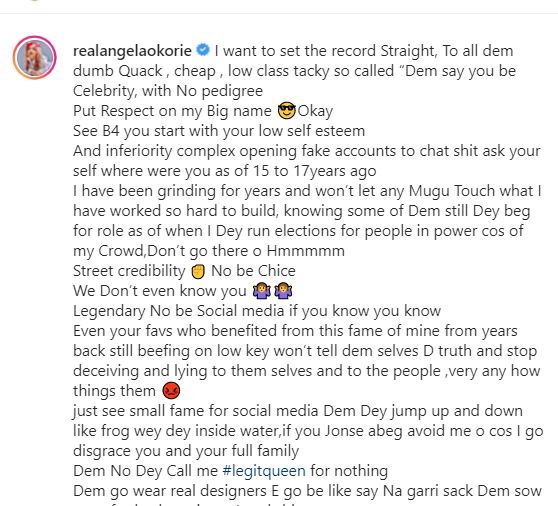 RECOMMENDED ARTICLES