A Zimbabwean married woman was nabbed in a hotel with her boyfriend two days after allegedly stealing money from her husband.
According to the viral report, the woman who is an indigene of Chitungwiza, Zimbabwe, stole $1,500 from her husband and ran away with it.
She was however nabbed days later at an hotel, with the man who she's said to have squandered the stolen money on, after her husband sought help from Mapositori.
A Facebook page, Within Zimbabwe that shared photos of the woman and her boyfriend, following their arrest wrote,
"Chitungwiza married woman stole $1,500 from her husband and ran away. The husband went to seek help from Mapositori. She was caught 2 days after while spending the money together with her Boyfriend at Gombe Lodge in Seke, Chitungwiza".
See photos below,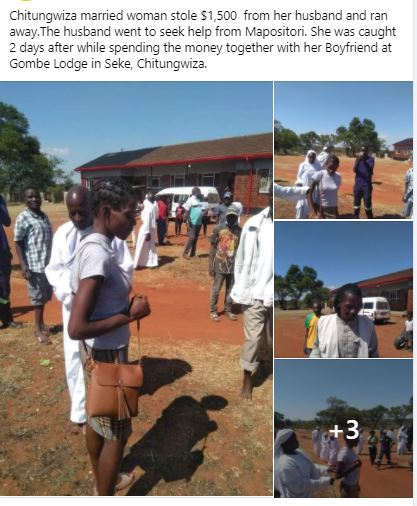 See how netizens reacted to the news below,
An Instagram user @hiebywhumey, "Nah her bf dey knack am well biko.. make dem release her 😂".
@sir_eltee, "If you check well, you will discover that the husband is one old man and the boyfriend a young guy😂".
@justdamz_, "Omo, she did her husband dirty😩😩. Ment oo".
RECOMMENDED ARTICLES